Savager


Information
Weapon Type
Assault Rifle
Firing Mode
Fully Automatic
Damage
+5.7 Damage
Magazine Size
80, 104 (upgraded)
Total Ammo Capacity
320 Bullets
Appears In
Fuse
The
Savager
is an Assault Rifle in
Fuse.
It is a good all-purpose weapon for when the player wants to avoid wasting Fuse from their Xenotech Weapon. The Savager is a good weapon for Jacob because he lacks mid to close range abilities and has limited ammo with the Arcshot.
Behind the Scenes
Edit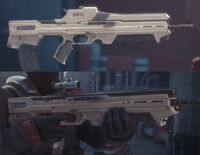 The Savager appeared in the original Blur Teaser for Overstrike, and appeared in two varieties; one with a cap covering the top of the weapon and scope, and another without the cap that appears identical to its appearance in Fuse. 
Ad blocker interference detected!
Wikia is a free-to-use site that makes money from advertising. We have a modified experience for viewers using ad blockers

Wikia is not accessible if you've made further modifications. Remove the custom ad blocker rule(s) and the page will load as expected.