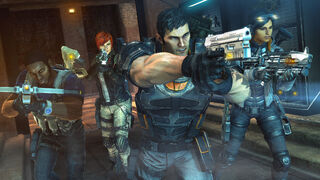 Overstrike 9 is an elite contact team made up of four operatives: Dalton Brooks, Jacob Kimble, Naya Deveraux, and Isabelle Sinclair
Overstrike 9 is the group governments hire when plausible deniability becomes an issue. The agents are also tasked with keeping Hyperion a secret from other government branches.
There maybe more Overstrike teams than just the one featured in Fuse. During the inter-mission for the Grigori Station, Oculus briefly mentions Overstrike 7.
Ad blocker interference detected!
Wikia is a free-to-use site that makes money from advertising. We have a modified experience for viewers using ad blockers

Wikia is not accessible if you've made further modifications. Remove the custom ad blocker rule(s) and the page will load as expected.