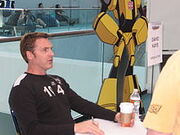 David Kaye, is a Canadian actor who is better recognized for his work as a voice actor. He provided the voice of Lyndon Burgess in Fuse. He was the voice actor for Dalton Brooks in the Overstrike Trailer, but was later replaced by Brian Bloom.
His notable Work includes Clank from the Ratchet and Clank Series, Logan Carter from Dead Island, and James Gordon from Batman: Arkham City
Ad blocker interference detected!
Wikia is a free-to-use site that makes money from advertising. We have a modified experience for viewers using ad blockers

Wikia is not accessible if you've made further modifications. Remove the custom ad blocker rule(s) and the page will load as expected.